Relive the figures and events
of our nation's formative years,
with Philadelphia's premier
portrayal of our "First American",
Dr. Benjamin Franklin.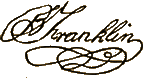 One of Franklin's inventions was the Glass Armonica, in 1761. This musical
selection is a glass interpretation of Minuet by Franz Joseph Haydn (1732-1809).
Performed by Dennis James, Glass Music Volume One.